Press Release
Dealer Simplified, Launches New Dealer Auction Site
The site, DealerBidSale.com is devoted to Dealer Held Wholesale Auctions
July 23rd 2015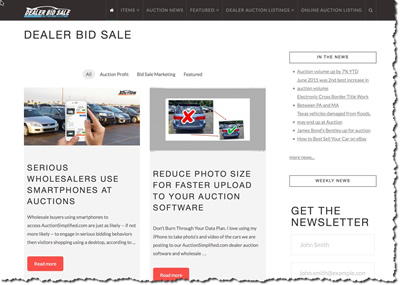 LANCASTER NY – The newly launched site created by Dealer Simplified's Kevin Leigh, is devoted to the success of dealer held private bid sales and auctions.
"With over 7% of dealers around the country already wholesaling cars directly with bid sale auctions we felt that a site devoted to dealer auction success was long over due." says Melanie Goulding, staff writer for dealerbidsale.com
There is a growing trend towards dealers wholesaling locally and avoiding auction fees, so the new site aims to focus only on this segment. The new Web site features expanded content and articles devoted to helping dealers perform better and master the ins and outs of running a bid sale auction.
"Our online visitors will now experience a more vibrant and seamless view of the whole dealer bid sale experience." Says Kevin Leigh, "We already have 51 articles focusing on the subject, including how to market, merchandise and profit. We aggregate the web, filtering news and articles about dealers held auction success."
Deeper Content More Focused on Dealer Held Auctions
The site will differentiate specifically away from the typical public and off site lane sale news.
"There are plenty of sites that bring lane sale auction news to the main stream, but very little news focused on dealers holding private bid sales and companies like Car Max holding their own lane sales." says Kevin Leigh, "Our plan is to invite dealers and other contributors to write exclusively for the dealer auction community."
Currently featured on the home page of dealerBidSale.com are "A 10 step guide to holding your own auction" and "How to welcome wholesalers back into your dealership" Other pages include featured articles designed for the support staff who run the auction.
Note: Access the Dealer Simplified's new web site at DealerBidSale.com
# # #
About Dealer Simplified:
Their industry veteran trainers help dealers run their own bid sales and auctions. By killing off the expenses of transporting cars and the high fees associated with selling cars offsite, AuctionSimplified.com (Dealer Simplified's core product) has lowered the cost to wholesale cars. Auction Simplified is absolutely free to sellers. No software fees or set up fees. For dealers already running bid sales, they enhance the existing pen and paper style by adding hundreds of online national buyers from their wholesale marketplace.