Press Release
Dealer Simplified Debuts at Digital Dealer
April 21st 2015 - Tampa Florida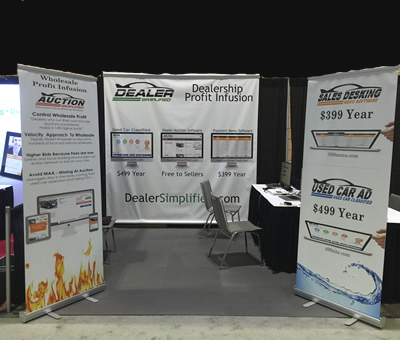 The team from the Digital Dealer Conference welcome Dealer Simplified LLC to their debut product presentation at the well known dealer conference.

"We are honored to be part of the show and rubbing shoulders with so many prestigious automotive vender's and dealers." said Kevin Leigh co-founder of Dealer Simplified.
He and his partners, Phil Gates and Dave Kaiser started the company in 2014. The company has been called the "David to the traditional auctions Goliath." By Automotive News.
At the show, they will be debuting three core products:
Auction Simplified (found at auctionsimplified.com) a auction software and wholesale marketplace for car dealers
Sales Desking (found at SalesDesking.com) a menu selling system for the showroom floor.
Used Car Ad (found at UsedCarAd.com) a used car classified website with localization.
Co-founder Kevin Leigh will also be speaking at the event on Thursday April 23rd at 10am. Presenting on the topic "digital marketing for wholesale." Which will help dealers get started webify their wholesale operations.


About Dealer Simplified, LLC
Founded by a group of automotive industry veterans determined to provide dealers with a new way to manage their dealerships, the Buffalo NY based startup, Dealer Simplified, uses groundbreaking technologies that empowers dealers to improve wholesale profitability. To learn more go to http://dealersimplified.com

Contact
To learn more about this new way to sell wholesale cars, please contact
Dealer Simplified, LLC
Po-box 333
Lancaster, NY 14086
P: (716) 800-2910
T: (877) 877-4511
info@dealersimplified.com