PRESS RELEASE:

Auction Company Reaches Important Growth Milestone and Announces Accelerated Traction with Independent Dealer
The company registered it's 1,000th automotive wholesale buyer using the online auction platform
Buffalo NY, October 2nd 2015 Dealer Simplified LLC, a Buffalo-based provider of online vehicle auctioning systems for automotive dealers, announced today the company has signed it's 1,000th registered wholesale buyer on it's Auction Simplified platform. Dealer Simplified's VP and Co-Founder Phil Gates made the announcement.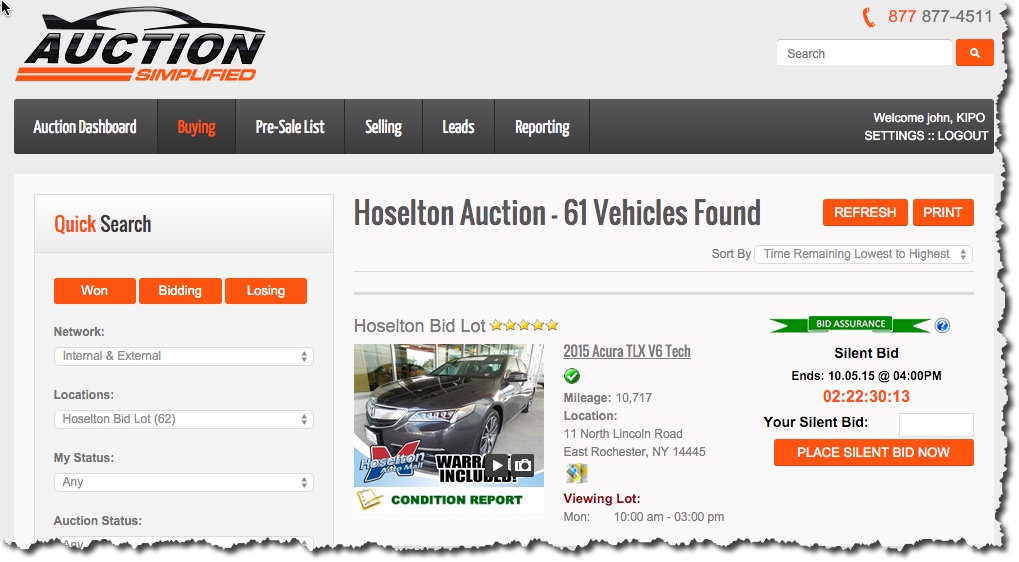 Founded in Western New York last year, Auction Simplified leverages mobile technology to enable automotive dealers to offer real-time auctions on vehicles as well as auction vehicles to other dealers directly from their dealership. The company has grown rapidly in the North East and has been expanding strategically in the United States. Using Auction Simplified gives dealers an advantage because it allows them the ability to hold their own auction online and avoid the high costs of third party auction houses.
"Wholesale buyers and Independent dealers are the basis behind our success." said Gates. "We created the Auction Simplified solution with them in mind. Indy dealers have found the rising fees associated with off site auctions hard to manage. So when they hear that our fees start at only $45 and they can buy direct from dealers again, they join our network willingly."
"Anytime you can create a wholesale B to B ecosystem that benefits both the Indy buyer and Dealership Seller, your job as promoter gets easier." said Kevin Leigh, VP and Co-Founder. "Our software is completely free to selling dealers and the fees are tiny for buyers. No wonder it has only taken 6 months to achieve this milestone."
The company held its first private Beta with the Gault Auto Group in October 2014 and officially launched the product in April of 2015. Now they have auctions running in NY, NJ, PA and AZ including 2 Dealer Groups on the Automotive News top 150.
"We are seeing greater net returns in wholesale. The wholesale turn time has greatly decreased as we are selling over 90% in each sale." said Chris Silvers of Elm Chevrolet.
Auction Simplified is expanding its footprint in the dealer-to-dealer market across the United States. Currently doing business with more than 1,000 Independent car dealers throughout the North East and Arizona.
More on Auction Simplified go to their website at AuctionSimplified.com
Media Contact
Kevin Leigh, Co-Founder
Dealer Simplified, LLC
4300 Seneca Street #732 West Seneca, NY 14224
P: (716) 800-2910
T: (877) 877-4511
kevin@dealersimplified.com